"And where the words fail, music makes a difference" – Music has been the universal language of expression, an art form so joyous and soulful, it is often connected with spirituality. And guitar happens to be one of the most popular and loved musical instruments all over the world. And let's be honest, whether you are a guy or a girl, you would have definitely dreamt of playing the guitar at least once. Now shelling a huge chunk of money to buy a premium guitar might not be the right way to start off. So here, we bring to you, top 5 best guitars under 10000 in India that you could buy and get your hands on. 
NOTE – Most of these guitars are available for even rent on our website – do remember to check them out here. 
Top 5 best guitars 10000 in India – Our picks
Zabel Acoustic Guitar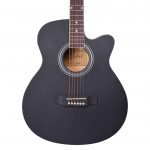 If you are looking to bring the best of creativity from within you, then Zabel is definitely the brand and guitar you can trust. With a smooth matt finish body, this Zabel acoustic guitar is surely an instrument you'd love to start your music journey with. If you have ever loved value for money more than anything, this Zabel guitar will surely be your favourite. A fretboard made of Maple wood that gives it better life and of course sound, it is among the top few choices of almost all beginner guitar aficionados. 
PRICE – 6,000 – 8,000
RENT – INR 250/week
Check it out here – https://instrurentals.in/product/zabel-acoustic-guitar/
GB&A AG110 Black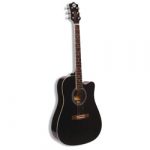 Does the name need any introduction? We think not. When we say GB&A, it only stands for quality and durability, apart from the utter excellence offered in every speck. 
One of our favourite top guitars under 10000 in India, the guitar is not very easy to find and you might just have to go on a hunt to get this classic model out of the bag somehow. Made from the finest rosewood to give it an unprecedented edge in sound quality, the guitar is finished in gloss black – a colour you would definitely love irrespective of whether you are going solo or for a performance. 
PRICE – 7000-9000
RENT – INR 250/week
Check it out here – https://instrurentals.in/product/gba-ag110-black/
Trinity TNY 5000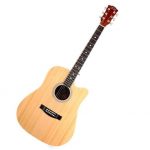 If comfort matters to you the most, then the Trinity TNY 5000 does not disappoint at all. 
A glossy finish that is accompanied with a high quality rose wood bridge and spruce body top, this guitar is now amongst the finest to have been ever made in this price range. Its absolutely stunning sound quality and the unmatched comfort make it the guitarists' favourite toy to play with. And before you have any donuts, Trinity is a brand that is not only trusted by us or some fellow musicians, but a huge and loyal fan base all over the world. 
PRICE – 7500-8500
RENT – INR 300/week
Check it out here – https://instrurentals.in/product/trinity-tny-5000/
Kadence Acoustica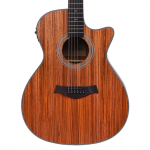 If you are looking for a guitar that would support you all the way through, from the beginning days to the intermediate levels and even professional, you should definitely go for the Acoustica series guitar from the house of Kadence. Renowned for manufacturing some of the best sounding guitars on a budget, Kadence has put all that it had into this fine series – elegant rosewood chamber, hollow resonating body chamber and an absolutely comfortable top. No matter what, it would be really tough for you to get your hands off this marvel!
PRICE – 7500-9000
RENT – INR 400/week
Check it out here – https://instrurentals.in/product/kadence-acoustica-series/
Cortex GA-MEDX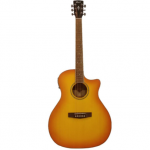 And last but not the least, we have another fine addition to our list of top best guitars under 10000 in India. Apart from its brand value, the Cortex GA-MEDX provides you with the finest spruce top, rosewood fret, a premium look and a feature filled preamp – the CE306T. Proudly expanding the grand regal series, this acoustic or semi electric guitar is the best of both rolled into one – offering quality, durability, value and features at a throwaway price range. Not to forget, it also has the scooped surface from Cort to reduce the string tension and allow better playability.  
PRICE – 9000-10000
RENT – INR 650/week
Check it out here – https://instrurentals.in/product/cort-ga-medx/
And there are many more from brands like Givson, Gibson, etc. Some might say we missed out brands like Fender, Yamaha and Ibanez – well, these are good names but the quality offered under the tag of 10000, somewhere still needs the edge to match with our top picks. 
Let us know what you think about our top 5 guitars under 10000 list in the comment section!
---